Develop, test and validate new products with the Alfa Laval pilot aseptic filler. Test, refine and optimize product formulations based on sterile samples taken during limited production runs. Rent or purchase this filling machine to ensure laboratory-scale production with hermetically sealed products in a clean environment. Performing small-scale trials helps determine improvements to processing conditions, product quality and shelf life before ramping up to full-scale production.
Cut time to market by validating new product formulations with this aseptic filler for pilot testing
Minimal investment required for cost-effective pilot testing using an aseptic pilot production line for bag-in-box and bag-in-drum filling
Increase production safety and output due to the use of the aseptic validation protocol
Global expertise and service network with local service centres
Complete solutions provider of aseptic processing lines, including sterilizers, aseptic tanks and aseptic bag-in-box fillers
Test, evaluate critical parameters and refine and retest as required. Once the formulation and process are confirmed, ramp up to full-scale production. This competitively priced aseptic pilot production line combines all the features of a full-sized aseptic filling lines and steam sterilization into a space-saving laboratory-scale format.
The sterile flexible bags come in two sizes: 3–20 litre for bag-in-box filling, and 200-litre bags for bag-in-drum filling. Choose between a two-inch filling valve for food products containing particles or chunks and a one-inch filling valve for beverages, low-acid dairy products, and liquid food products with various densities and viscosities.
How does the Alfa Laval pilot aseptic filler work?
The dosing of the product is carried out by an electronic balance or by volume with a magnetic flow meter, and the system is managed by a programmable logic controller.
The core of each aseptic filler is the aseptic filling head. The aseptic bags are pre-sterilized using radiation. The filling equipment is responsible for the cap/spout sterilization – the uncapping, the filling and recapping procedures. The automatic cycle of opening, filling and closing the cap of the aseptic bag begins upon manual insertion of the bag neck into the filling head. Decapping, filling and capping occur in an aseptic chamber with an overpressure of a steam barrier to ensure sterile conditions.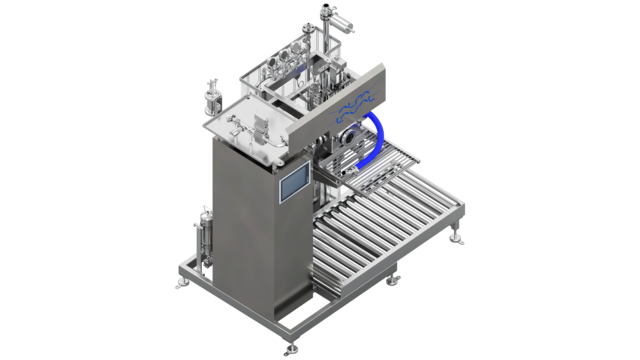 Aseptic pilot production line
A temperature probe monitors the temperature, ensuring that the correct amount of steam is always present in the chamber during the production and sterilization-in-place phases. During the filling cycle, the temperatures of the jets of steam and of the filling valve are carefully monitored and controlled. The cap is steam sterilized. Disinfectant can be added when filling of a low-acid product, if required. Steam barriers protect all the mechanical moving parts. A flow meter or loading cells control the filling process, depending on the option selected.