Welcome to the next era of boiler solutions
This year marks a century since the first boiler carrying the Aalborg name began its journey at sea. That boiler and the vessel it sailed with now belong to history. But for Alfa Laval Aalborg solutions, the past and present are a springboard into the future.
The deep knowledge and complete technology portfolio developed over the past 100 years are the heart of today's Alfa Laval Aalborg solutions – along with the people and commitment behind them. As the marine industry faces new energy, environmental and business challenges, they're providing the steam to keep it moving forward.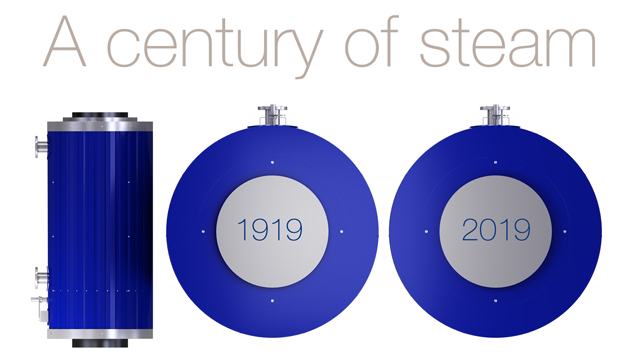 100 years of boiler innovation
Back in 1919, when the first marine boiler left the Aalborg Shipyard in Aalborg, Denmark, no one could have known the significance it would have. It would lay the groundwork for a century of partnership in meeting ships' need for steam – a partnership that continues to grow stronger and deeper. Over the course of 100 years, the Aalborg name has become synonymous with boilers, leadership and breaking technology barriers. Today's Alfa Laval Aalborg solutions are the proud result of that century-long tradition.
The future of boiler solutions begins now
For 100 years, Alfa Laval Aalborg products have set the standard other boilermakers follow. Nowhere else will you find a complete portfolio of boiler solutions, comprising all key technologies and expertise. The difference is crucial – because meeting the challenges of tomorrow begins with seeing the whole picture today.
Todays marine boiler systems
Fired boilers
Alfa Laval has one of the most comprehensive product ranges within fired marine boilers.
Composite boilers
Available in single-inlet or multiple-inlet configurations, the Aalborg combi boiler is a plug-and-play solution that can be fired with either fuel or exhaust gas.
Exhaust gas boilers
Exhaust gas economizers after diesel engines and waste heat recovery units after gas turbines are unfired and utilize the otherwise wasted heat from the exhaust gas to produce energy/heating.
Industrial boilers
Steam, hot water & waste heat recovery solutions for industry.
Engine Power boilers
Alfa Laval Aalborg waste heat recovery boilers for Engine Power.
Boilers for the oil and gas industry
Alfa Laval Aalborg large boiler systems for Floating Production Systems.
From shipyard to boiler development
Tradition runs deep at the former shipyard in Aalborg, Denmark. Though the site is very different than it was in 1919, it still serves as the headquarters for Alfa Laval Aalborg boiler solutions. Its largest building now houses the 1350 m3 Alfa Laval Test & Training Centre, which spearheads Alfa Laval research and development in steam applications. Yet the Aalborg spirit and dedication remain unchanged – defining an organization that now stretches across the globe.