The centrifugal separator for metalworking fluids efficiently removes tramp oil, fine metal shavings and particles down to one micron resulting in reduced tool wear, fewer rejects, and an overall improvement in quality.
Secure long-lasting efficiency with tramp oil separator systems
Depending on your needs for cleaning of water-based metalworking fluids such as synthetic, semi-synthetic and soluble oils, Alfa Laval offers fixed and mobile solutions for smaller individual tanks with the Alfie 200 and Alfie 500. For larger and centralized tramp oil removal systems the AlfaPure series is the recommended solution.
Alfie 200
Centrifugal separator designed to remove tramp oil, grease and particle contaminants from water-based metalworking and wash fluids in tanks up to 1500 gallons.
Reduces fluid consumption

Lowers disposal costs

Improves both product quality and the work environment

A

llows

for a bolt

-

on connection to the coolant tank

A

dapts

automatically

with

an

inlet bellows

to the fluid

level

in the tank

Provides s

ustainable

fluid

cleaning

for

single-tank operations
Alfie 500
Removes contaminating tramp oil, grease and solid particles from water base metalworking fluids and wash fluids in tanks up to 2500 gallons.
Reduces fluid consumption

Lowers disposal costs

Improves both product quality and the work environment

Complete compact tramp oil removal system, including centrifugal separator, feed pump and computerized control system
Provides sustainable metalworking fluid cleaning for multi-tank operations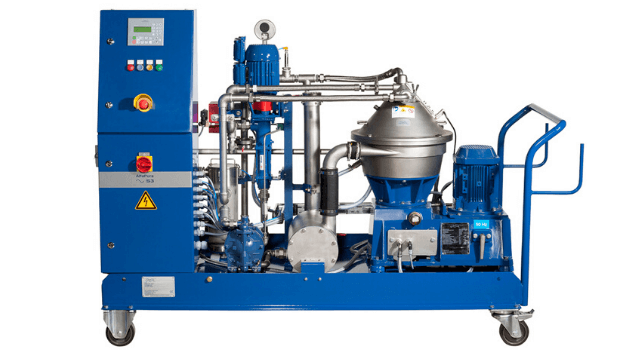 The 4 most common cleaning methods for cutting fluids
Cutting fluids are an essential part of many machining processes, and without the right care and attention they become contaminated and can cause problems. By effectively cleaning your cutting fluids with a centrifugal separator, you can avoid these issues and reduce your overall operating costs. In this article, we explain the pros and cons of the different cleaning methods, and help determine which is best for your business.
Ditch the filters: 9 benefits of centrifugal separators
Cutting fluids get contaminated over time. While filters or replacing cutting fluids is an option many companies take, there are other opportunities that are cost-effective and efficient.
Why tramp oil is a chronic issue and what you can do about it
Learn why tramp oil and solid particles are a problem in metalworking and how you can clean your fluids and extend the life of your equipment while improving the working conditions for employees.
Service
An Alfa Laval centrifugal separator will perform for decades if you look after it properly. But you have to familiarize yourself with the manual and make sure you use genuine spare parts and the right tools. We provide specific service kits with genuine spare parts and a comprehensive package of detailed service instructions. We even have service videos on how to properly maintain your separator.
Let's talk!
Get ready to improve productivity and reduce equipment lifetime costs. Need help choosing the right solution? Contact us to learn more about how our metalworking fluids cleaning solutions can help your business. Simply complete the form and we'll get back to you as soon as possible.