Plant-based protein and vegetable processing systems
Rising demand for alternative proteins calls for reliable wet fractionation processes that boost purity, nutritional value and yield, of protein isolates while reducing consumption of energy and water. Sustainable plant-based protein processing systems from Alfa Laval deliver reliable performance and reduce environmental impact while ensuring protein stability, appearance, texture, taste and nutritional value.
Boost the quality and yield of plant-based protein food and drink products
Complete utilization of raw material
High hygiene standards
High purity, high quality and high yield
Low energy and water consumption
Minimized freshwater intake and environmental impact
Turning oilseed crops, such as soybean, rapeseed and sunflower seed, and starch crops, including pea, chickpea, fava bean and mung bean, into high-quality proteins for food and feed requires know-how.
Take advantage of comprehensive, energy-efficient solutions for plant-based protein processing systems from Alfa Laval. From oilseed and starch protein extraction, isolation and purification through to process water recovery, and wastewater treatment, you will discover a sound and sustainable approach to meeting the growing global demand for meat substitutes.
Food and beverage manufacturers turn to Alfa Laval for expertise, service and support to develop, test and optimize vegetable protein processing systems to ensure fast scale-up from pilot- to commercial-scale production.
Large gamme de solutions pour le traitement des protéines alimentaires
Avec le procédé de fractionnement par voie humide, Alfa Laval dispose d'un large choix de solutions d'extraction des protéines alimentaires d'origine végétale. Que vous ayez besoin d'un simple équipement à intégrer à vos lignes existantes, ou de lignes de production complètes sur mesure, Alfa Laval fournit des équipements et des systèmes pour l'extraction, l'isolation et la concentration des protéines des plantes riches en huile et amidon :
Préparation des boues
Extraction, séparation et purification des protéines
Systèmes de pasteurisation
Séparation et purification des fibres et de l'amidon
Récupération des sous-produits
Traitement des eaux usées et récupération de l'eau
Process d'extraction de graines oléagineuses

Solubilisation. : la première étape consiste à mélanger une solution de soude avec des flocons blancs de graines oléagineuses pour rendre la protéine soluble en augmentant la valeur du pH des boues obtenues

Extraction des protéines : le précipité est traité dans un décanteur d'extraction afin de séparer la protéine solubilisée des solides (fibres)

Deuxième extraction : la phase solide est lavée à l'eau afin d'extraire les protéines supplémentaires n'ayant pas été libérées lors de l'extraction initiale. Un second décanteur d'extraction traite ensuite les boues, en séparant les solides (fibres) du liquide. Ces solides peuvent ensuite être envoyés dans un séchoir ou dans une usine de production de biogaz

Précipitation des protéines : Le liquide recueilli lors des deux étapes d'extraction est traité pour abaisser son pH au point isoélectrique de la protéine, ce qui entraîne la précipitation de la protéine dans le liquide. La suspension de protéines précipitées est traitée dans un décanteur de protéines, qui sépare le précipité de protéines du liquide

Lavage des protéines : Lors de cette dernière étape, les protéines sont lavées avec de l'eau pour augmenter leur pureté. On obtient ainsi un produit protéique d'une plus grande pureté et de meilleures propriétés organoleptiques. Toutefois, cette étape peut être omise si l'objectif n'est pas de produire un produit protéique d'une grande pureté.
Process d'extraction de plantes riches en amidon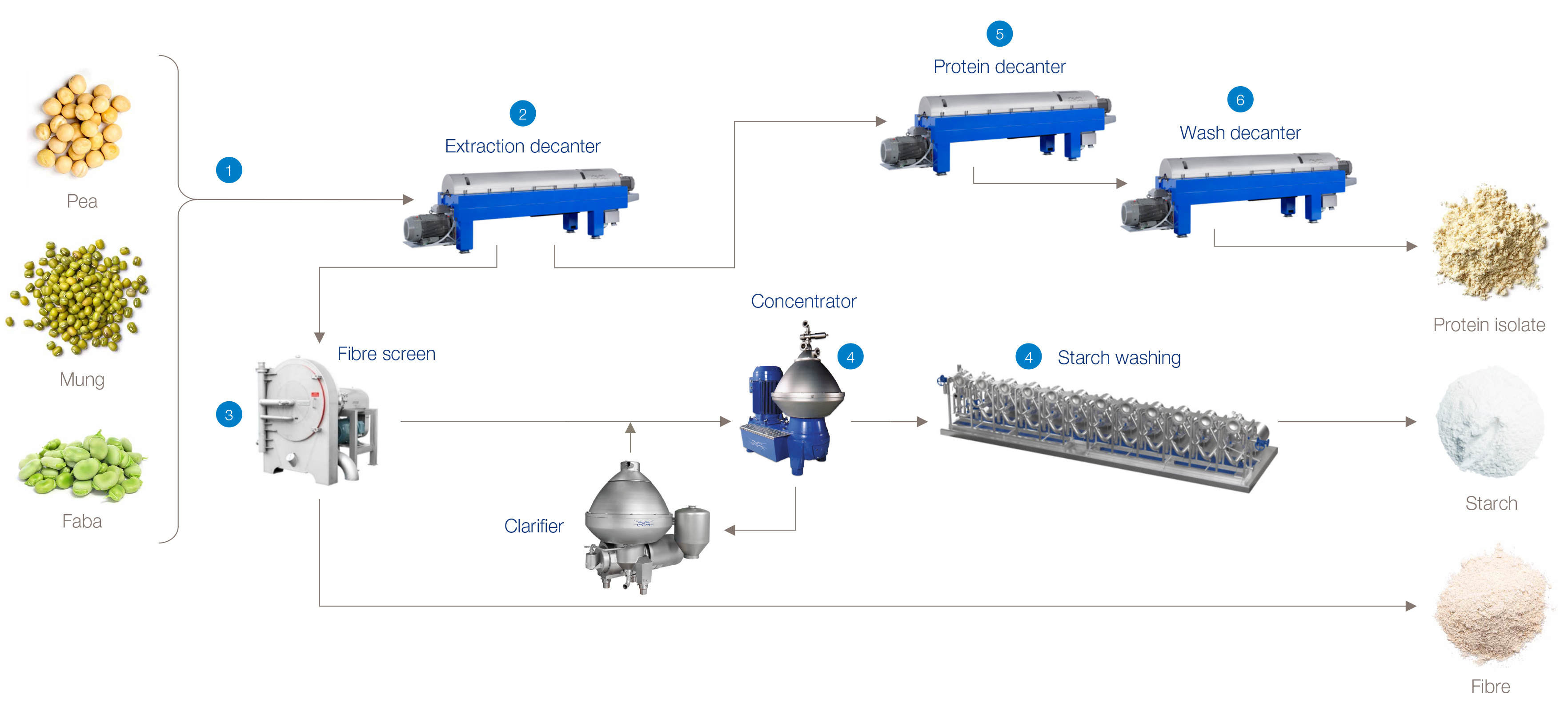 Solubilisation : la farine est mélangée à une solution de soude pour solubiliser la protéine en augmentant la valeur du pH des boues

Extraction des protéines : un décanteur d'extraction sépare la protéine solubilisée des solides (fibres)

Elimination des fibres : Des cribles à fibres rotatives filtrent les solides, retirant les fibres de l'amidon. Avant le séchage, les fibres humides peuvent être envoyées dans un autre décanteur pour une déshydratation supplémentaire, ou être utilisées pour la production de biogaz ou de bioéthanol

Concentration et lavage de l'amidon : Le lait d'amidon dilué est ensuite concentré et transféré dans un système de lavage par hydrocyclone. Le lavage affine le lait d'amidon, qui peut ensuite être séché en poudre ou utilisé pour la production de bioéthanol ou de sirop

Précipitation des protéines : le liquide produit lors de l'étape d'extraction est traité pour abaisser son pH au point isoélectrique de la protéine, ce qui entraîne la précipitation de la protéine dans le liquide. La suspension de protéines précipitées entre ensuite dans un décanteur de protéines, qui sépare le précipité de protéines du liquide.

Lavage des protéines : les protéines peuvent être à nouveau lavées à l'eau afin d'être purifiées et garantir de hautes qualités organoleptiques si c'est là l'objectif recherché
Nous répondons à vos questions
Equipements industriels de transformation des protéines alimentaires d'origine végétale
Audits & Maintenance pour optimiser vos lignes de production agroalimentaires
Services pour les systèmes agroalimentaires
Les services pour les systèmes de production agroalimentaire d'Alfa Laval aident à optimiser les performances de vos systèmes alimentaires en améliorant les performances des processus. Cela vous permet de :
Améliorer continuellement vos opérations pour conserver votre avantage concurrentiel
Vous concentrer sur le temps de fonctionnement, l'optimisation et la disponibilité
Maximiser le retour sur investissement tout au long du cycle de vie de vos systèmes alimentaires