Plate heat exchanger services
A poorly functioning heat exchanger may affect safety, product quality and energy costs. Failure may lead to costly downtime and major losses in production. By regular and proactive maintenance of your gasketed plate heat exchanger performance is preserved and operations kept trouble-free and predictable.
We have the expertise to help you whether you experience a problem today, wish to prevent future issues or want to solve the problem yourself with our online troubleshooter.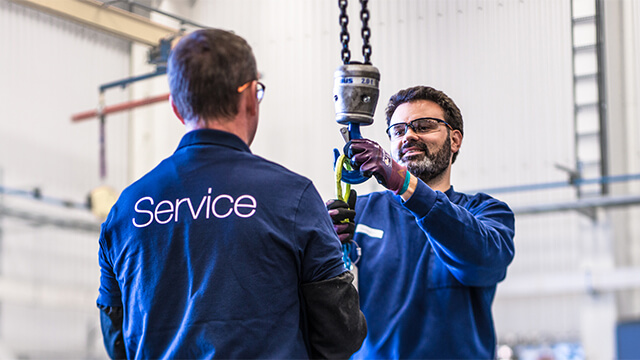 Online troubleshooter - be the expert
A leaking heat exchanger? Reduced thermal performance? Identify the causes of various issues you might experience with your plate heat exchanger, or even better – how to prevent them from happening, through our online troubleshooter. If needed our experienced and skilled troubleshooters are at your service.

Skills and knowledge empower
When you buy Alfa Laval equipment, you buy peace of mind. But you must also rely on your equipment operators to get the job done. That's why competence development is invaluable to your everyday operations. If you have any specific need for training, let us know and we will get back to you soon.
Spare parts
Tips to ensure your parts are genuine:
Look for the Alfa Laval logo on every packaging and part
Ensure the Alfa Laval name and trademark, with the words "Genuine Parts" are printed on the packaging
Review the packing list to ensure that part is genuine
Inspect the part number printed on each packaging
How to order Alfa Laval genuine spare parts
Find your local Alfa Laval office and give us a call or send an email.
OR
Fill out the form below and send us your request. Our local sales office will contact you.
Service Calculator
How long will your gaskets last?
Using Alfa Laval's proprietary GPredict™ tool, our service advisors can give you a reliable estimate of the expected lifetime of your gaskets. The tool relies on precise calculations based on your specific equipment and relevant application details, including temperature, gasket material, whether you use glued or non-glued gaskets, and how often you open your unit in the course of annual operation. With that, you can plan the reconditioning of your plates, since you always know when it's time for regasketing well in advance. Take advantage of GPredict™ with a customized gasket prediction based on your installation* by contacting us today or test our simplified version below.
Get your customized prediction
Prediction of gasket lifetime
Gasket material: NBRP
NBRP is Alfa Laval's unique nitrile performance grade for high temperatures
Max. operation temperature
This temperature range refers to 0-100°C (32-212°F).
0
25
50
75
100
Estimated number of openings per year
0
3
6
9
12
*GPredict™ estimates are valid only for clean water duties, or applications using other fluids that have no chemical impact on the gasket. Gasket lifetime predictions are not available for units that employ aggressive media.
Reconditioning and preventive maintenance
All heat exchangers lose performance over time. Alfa Laval's cleaning equipment (CIP) provide quick and easy in-line cleaning, but we recommend sending the units for recondition on a regular basis to reset the status of your equipment to an as-good-as-new condition.
A Performance Audit by a qualified engineer gives you an assessment of your units' current state, which makes planning for downtime easy. At reconditioning we replace gaskets, upgrade plates or replace damaged ones with Alfa Laval genuine spare parts according to original specification.