Transfer liquid dairy, food, beverage and other products into flexible bags up to 1,000 litres in size with the Alfa Laval Astepo clean filler. This non-aseptic bag-in-box food filling machine provides a ±0.5% filling accuracy and the flexibility you need, no matter the bag size, cap type or packaging design. Enjoy unmatched compatibility using different kits to run all format types. Boost uptime and output thanks to efficient changeover between production and cleaning cycles.
Maximize uptime, minimize product loss with a highly compatible, flexible non-aseptic filler
Ensure production safety and extend shelf life by preventing oxygen pick-up during hot and cold fills
Efficient output with high-speed filling, fast changeovers and low maintenance
Extended shelf life when flashing the cap with hydrogen peroxide before filling
Global expertise with a truly local service and support network
Transfer liquids and viscous or particle-laden products into flexible bags for bag-in-box packaging with the Alfa Laval Astepo clean filler. This aseptic filler provides the flexibility you need, no matter the bag size, cap type or packaging design. Choose automatic or semi-automatic mode and bag sizes up to 1,000 litres. This compact filling line is used across the dairy, food and beverage industries for milk and milk products, ketchup, mayonnaise, sauces, shelf-stable syrups and extracts.
Choose the EHEDG-compliant Astepo Ultraclean bag-in-box clean filler for dairy, egg and other sensitive products that require higher hygiene standards or longer shelf life. This filling machine has an overpressure of filtered air that protects the filling valve and product from atmospheric contamination. An optional nebulizer system for disinfectants is available.
How does the Alfa Laval
Astepo
clean filler work?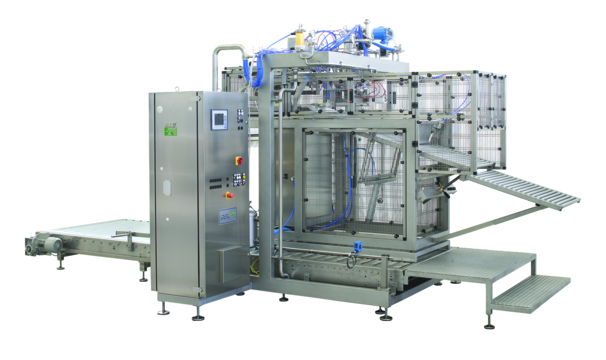 Automatic C.F. bag-in-box filler for 3 – 20 litre bags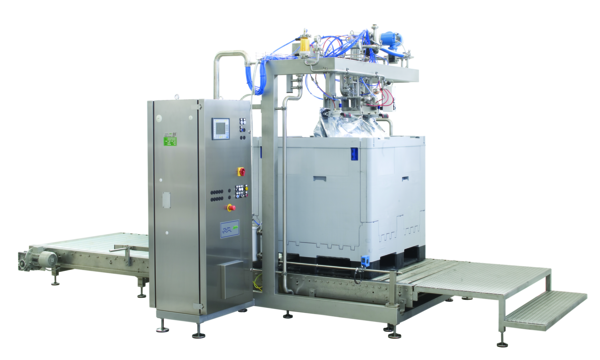 Semi-automatic
filler
for 1,000 litre bags
The filler detects the completion of cap insertion into the machine. Detection prompts the start of a filling cycle for large bags as soon as an operator manually inserts a cap, or for small bags a cap is automatically inserted. After inserting the first bag and starting the machine, the filler switches to auto mode. Sensors stop the filler operation should a no-bag or no-valve condition arise.
The cap must then be removed, and the filling valve positioned into the fitment on the open bag. A vacuum removes any residual air. Filling the bag takes place using volumetric dosing according to the recipe selected by the operator. A puff of nitrogen can clear the valve before lifting it off. Repositioning of the cap and the filled bag release. The automated Astepo clean filler uncaps, fills bags, and separates each filled bag from an incoming empty bag.
Choose either automatic or semi-automatic operation for the Alfa Laval Astepo clean filler. It comes equipped with key fittings made of AISI 304 or AISI 316 stainless steel. Customize the filler using a broad range of options, such as single or double filling head, to meet your filling requirements.

C.F. Ultraclean bag-in-box filling system