Alfa Laval Aalborg waste heat recovery boilers cut fuel costs and emissions
Lucky Cement Limited (LCL), one of Pakistan's largest cement manufacturers, was looking for new ways to reduce fuel consumption of its engine power plant at its Nooriabad cement production facility located northeast of Karachi.
DATE
2023-11-28
To improve the overall efficiency of the plant, Orient Energy Systems (Pvt.) Ltd. (OES), one of the leading multinational engineering companies in Pakistan, transformed the cement factory's existing 70 MWel engine power plant into a combined cycle power plant (CCPP). To supply the waste heat recovery (WHR) system, OES turned to Alfa Laval Aalborg Oy (Rauma, Finland).
The system achieved 27 MWth in total waste heat recovery, which generates 6 MWel of electric output from a steam turbine. This contributed to significant reductions in fuel costs and plant emissions.


Efficiency and sustainable development are among the corner­ stones of Lucky Cement's overall philosophy and business practices. So it comes as no surprise that improving fuel efficiency and reducing emissions were priorities for Mr. Intisar ul Haq Haqqi, Director of Power Generation at Lucky Cement.
Years of experience, a deep understanding of CCPP processes and boiler systems, and a proven track record with hundreds of high-­efficiency WHR boilers working around the globe convinced OES to select Alfa Laval Aalborg Oy as its WHR system supplier. Working together, OES and Alfa Laval Aalborg Oy assured the end­ user Lucky Cement of a superior WHR solution for the CCPP at the Nooriabad facility.
For capturing excess heat from the engine exhaust gas, the system consists of 11 Aalborg AV­6N WHR boilers along with associated auxiliary equipment.
The performance of Aalborg WHR boilers exceeded our customer's expectations because the waste heat recovery was actually better than guaranteed. Lucky Cement is very satisfied with the overall performance and delivery of the plant.
Mr. Zaki ul Haq, General Manager of Engineering, at Orient Energy Systems (Pvt.) Ltd
High-performance heat recovery, fast payback
These highly efficient WHR boilers generate superheated steam for use in a steam turbine. By retrofitting the Nooriabad power plant for combined cycle operation, Lucky Cement was able to recover a total of 27 MWth from exhaust gas waste heat, which increased plant electrical output by approximately 10%. This significantly reduced plant fuel consumption and emissions as well as provided fast return on investment for the CCPP upgrade.
After the upgraded power plant had been in operation for a year, Mr. Syed Hassan Mazhar Rizvi, General Manager of the Nooriabad power plant, told Alfa Laval Aalborg Oy that he is very satisfied with the plant's stable and reliable performance. The plant's proven performance convinced Lucky Cement to continue to work with OES and Alfa Laval Aalborg Oy in order to install another WHR system at its engine power plant in Pezu. This is the company's largest cement production plant, located in the Khyber Pakhtunkhwa province of Pakistan.
Principal system diagram: Lucky Cement Waste Heat Recovery System.
About the Aalborg AV-6N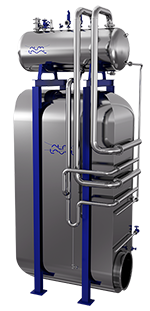 The Aalborg AV-­6N, a water­tube waste heat recovery boiler is a robust, highly efficient boiler, designed to improve overall plant efficiency.
With the Aalborg AV-­6N WHR boiler, waste heat from exhaust gas can be recovered from various sources, such as industrial processes and diesel or gas engines to generate steam and/or hot water. With its flexible design, it is easy to install – even in existing facilities.

Fast facts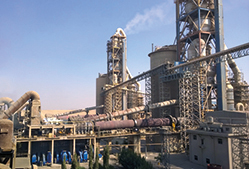 The customer
One of Pakistan's largest cement manufacturers, Lucky Cement produces 7.75 million tons of quality dry process cement each year.
The challenge
To reduce fuel consumption of and emissions from a multi­ engine power plant consisting of 11 engines from Caterpillar MaK, Rolls­Royce Bergen and Wärtsilä.
The solution
Eleven Aalborg AV­-6N WHR boilers along with associated auxiliary equipment.
The benefits
Significant reductions in fuel costs and emissions due to a total waste heat recovery of 27 MWth which is transformed into 6 MWel of electric output from a steam turbine.
Start up
2015