New Alfa Laval PureSOx connectivity solution simplifies SOx compliance
Connectivity is a catchphrase in today's marine industry, but Alfa Laval is taking concrete steps to make it a reality. With a new connectivity programme for Alfa Laval PureSOx scrubbers, the company is adding value for exhaust gas cleaning customers. The solution promises both simplicity and even greater reliability in SOx compliance.
DATE
2023-11-27
With well over 150 systems in operation and in compliance, Alfa Laval PureSOx is already a trusted solution for meeting the SOx limits posed by Emission Control Areas (ECAs) and the 2020 global sulphur cap. With the launch of the new PureSOx connectivity programme, it will put customers even farther ahead, providing still greater peace of mind and new ways to save time and money. The programme builds on the new Alfa Laval Remote Emission Monitor (ALREM), a data reporting and storage device that is part of new all PureSOx orders and available for retrofit.
"Customers want to eliminate hassle and downtime, so that they can spend more time performing," says Olaf Van Heerikhuizen, Manager Service Gas Systems. "Connectivity is the key, as we've already seen in ALREM projects with major PureSOx customers. The ALREM lays the groundwork for a range of data-driven services that will make compliance – and life on board – much easier."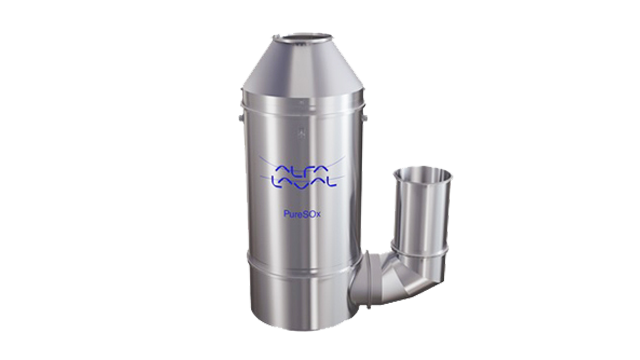 SOx compliance reporting without the work
The first service to be rolled out in the PureSOx connectivity programme is one that simplifies proof of compliance and is available on all vessels where the ALREM is installed. Rather than analysing scrubber compliance data themselves, customers receive user-friendly, graph-based reports via the Alfa Laval Touch Control system on board.
"This is immediate pain relief for customers, whose scrubbers are legally required to log around 50 data signals every three minutes," says Van Heerikhuizen. "Instead of interpreting a hundred pages of raw sensor data for just a few days of operation, they get a finished compliance summary that they can hand over directly to authorities."
The compliance reporting service is fully tested and class approved. If they choose, customers can also review the data for their vessel or fleet via an online portal. Accessible on a subscription basis for a simple monthly fee, the portal lets them view their vessel's route and receive a SOx compliance summary for the dates they select.
Many more possibilities to come
The capabilities of the ALREM go far beyond reporting, which paves the way for additional services to come. The system can log not only the required compliance data, but also PureSOx diagnostic and performance data that can be sent to the cloud for processing by Alfa Laval analysts. This provides a foundation for condition-based maintenance services and new levels of scrubber optimization.
"In the course of testing the ALREM, we've been able to use the diagnostic information to find the root causes of an alarm and arrive on the vessel with the right parts and information to solve the issue quickly," says Van Heerikhuizen. "As the system grows more sophisticated, we'll be able to provide more predictive maintenance and help customers trim their scrubbers for even better performance and energy efficiency."
To learn more about Alfa Laval PureSOx and Alfa Laval's approach to exhaust gas cleaning, visit www.alfalaval.com/puresox