The quality of the lube oil determines equipment lifetime and levels of productivity. Clean lube oil is essential to healthy, trouble-free processes. We provide many options for cleaning lube oil. Our expertise can guide you to the right one.
Centrifugal separators for cleaning lube oil
Centrifugal separators are widely known for their efficient lube oil dehydration and particulates cleaning abilities and for consistent and reliable performance. Also, separators require minimal maintenance and attendance, which have a positive effect on both process uptime and running costs.
Emmie 2
Services many different types of oils such as hydraulic or lubricating oil, compressor or gear oil, or diesel oil.
An internal heater simultaneously removes water and particles from oil.
Lower operational cost due to extended service life of the oil
Less need for disposal of used filters and used lube oil.
Removes more than 99 percent of all solid particles between 2 and 5 μm from the oil, and virtually all the water but none of the additives.
Quick couplings make it easy to move from tank to tank.
OCM
Lube oil cleaning systems provide continuous, automatic and efficient separation of water and sludge components from contaminated lubricating and hydraulic oils. Designed for oil flows from 4 to 33 gallons per minute.
Oil Cleaning Modules (OCM) are systems containing a lube oil separator centrifuge, a heater, a feed pump, valves and a control panel.
Lower operating costs due to reduced oil consumption, lower disposal costs and improvements in both product quality and the work environment.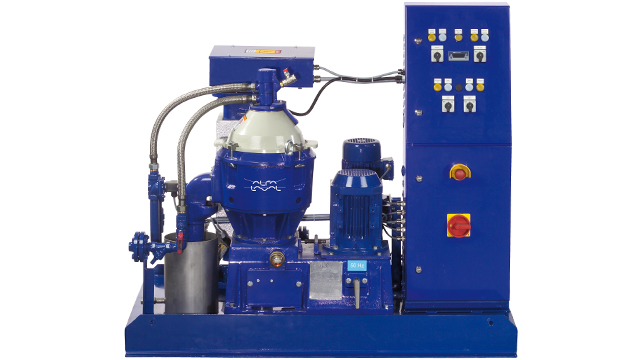 MAB
Solids-retaining centrifuges for separating water and particles from mineral oils such as fuel and lubricating oils, compressor oils, hydraulic, running in and metal working oils designed to handle oil flows from 4 to 38 gallons per minute.
Water and particle free oil is essential for the quality of most processes.
Complete range of lube oil separators
Lube oil system in operation
The Alfa Laval Oil Cleaning Modules OCM have been developed for fuel and lube oil cleaning to remove solids (particles) and water simultaneously. They are plug and play lube oil cleaning systems with standard options as for example electrical heater and mobile kit - customization is possible.
Service
An Alfa Laval centrifugal separator will perform for decades if you look after it properly. But you have to familiarize yourself with the manual and make sure you use genuine spare parts and the right tools. We provide specific service kits with genuine spare parts and a comprehensive package of detailed service instructions. We even have service videos on how to properly maintain your separator.
Whitepaper: The importance of lube oil cleaning
Eager to understand more about lube oil cleaning? Our whitepaper gives you a comprehensive overview of the technologies available and acts as a guide to choosing the best one for your application.
Benefits snapshot: Cost-effective lube oil cleaning system
Interested in low operational costs? This infographic gives you a snapshot of lube oil cleaning benefits, with a clear total cost of ownership comparison between different systems.
How Poor Lube Oil Cleaning Could Be Impacting Your Business
Is contaminated lube oil a risk for your operations? Poor oil quality could be costing your business—resulting in high maintenance costs and shortening the lifetime of your equipment. But a high-speed centrifugal separator can help to improve the reliability of your lube oil and save money in the long run.
Let's talk!
Get ready to improve productivity and reduce equipment lifetime costs. Need help choosing the right lube oil centrifugal separator? Contact us to learn more about how our industrial lube oil cleaning solutions can help your business. Simply complete the form and we'll get back to you as soon as possible.