Alfa Laval Touch Control retrofit for Aalborg boilers
Having a clear, intuitive and modern control system makes it easy to improve operations on your vessel. Alfa Laval offers a smooth and simple way to replace your existing Aalborg Unisab boiler control system with the very highest standard in boiler control – Alfa Laval Touch Control.
What we do
Alfa Laval takes care of the entire retrofit process, from preinspection and engineering to reclassification and updating your documentation. You can rest assured, knowing that our service experts will handle everything from start to finish. To ensure minimal disturbance of your daily operations, we can perform the retrofit either during your voyage or at a convenient time when your vessel is docked. Our high-quality project management matches the equipment supply to your schedule, so that hardly any effort is needed from you.
Peace of mind
Alfa Laval has the world's largest global service network for boiler control systems. Our service hubs – which can be reached 24/7, 365 days a year – are located in major ports and can organize Field Service assistance as well.
Download leaflet
Easy upgrading to the modern standard in boiler control.
24/7 service and support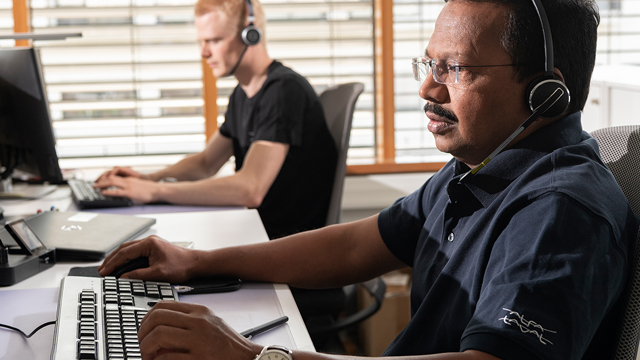 Contact us anywhere, anytime:


+46 4636 7700
E-mail: marine.service@alfalaval.com
Benefits
Quick and easy exchange of hardware
Simplified boiler operation with better overview
Easier connection to ship control and communications systems (coverage for all major bus interface)
Upgradable firmware for easy integration of new features
Future-proof expansion options thanks to modular construction
High reliability
Easy troubleshooting and maintenance
About Alfa Laval Touch Control
Alfa Laval Touch Control is the modern control standard, providing the best in clarity and ease of use. It offers:
Simple and intuitive touch navigation
Easy boiler operation
Easy control system maintenance
Monitoring and control from all HMI
Robust PLC-based design
Future-proof expansion
Because Alfa Laval Touch Control comprises prefabricated modules, its installation is fast and problem-free.
Scope of service
Alfa Laval takes responsibility for the entire Alfa Laval Touch Control retrofit process. This includes:
Overview of existing setup
Either through pre-inspection or with the assistance of the vessel's crew, our experts assess the current setup (with or without MGO conversions) to eliminate risks and ensure success.
Engineering and reclassification
Based on the pre-inspection and/or information provided by the vessel's crew, our experts undertake the necessary engineering work. We also manage the reclassification of your vessel or vessel series with the upgraded control system.
Hardware exchange
Our experts note the existing parameters, remove your Unisab control system and install and connect the Alfa Laval Touch Control hardware. They then perform a range of tests to make sure everything is working properly.

Documentation and training
We see to it that your documentation is updated – on board and at your technical office, but also in our own central systems. Keeping this information current will simplify any future dispatch of a spare part or service engineer. In addition, we provide Alfa Laval.
Scope of supply
Updated and class-approved electrical drawings
New local panel door mounted with I/Os and HMI
I/Os for power panel(s), EGB, MGO (depending on configuration)
PLC and HMI (optional) for engine control room
Relays, power supplies, etc. needed for modification
Communication cable
Other 360° Service Portfolio services for your equipment
Alfa Laval Installation for Aalborg boilers
Alfa Laval Installation Supervision for Aalborg boilers
Alfa Laval Cleaning Services for Aalborg boilers – boiler water washing kit
Alfa Laval Replacement – boilers