Reach new heights – higher flow rate, better separation performance and superior hygiene – with the weld-free UniDisc™ design from Alfa Laval. Unlike traditional separator discs with caulks (disc spacers) welded to the plate, discs with UniDisc technology feature micro caulks molded from the metal plate itself during the form pressing process. These micro caulks increase the number of discs in the disc stack, increasing the separation surface area and boosting separation performance.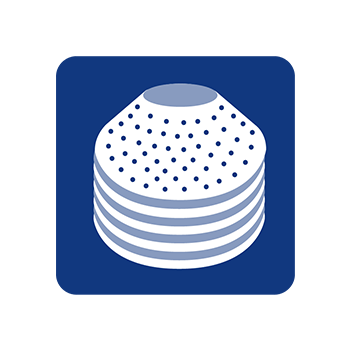 Features
Seamless weld-free caulk design
Uniform distribution of micro caulks
Increased number of discs in a disc stack
Advantages
Stable, uniform spacing between the discs
Even flow of process liquid through the stack
More surface area for separation
Higher level of hygiene due to less contact between each disc
Benefits
Higher levels of product safety
Higher flow capacity
Increase in separation efficiency of up to 30%
Faster, easier and more cost-effective to clean and maintain
How UniDisc works
The UniDisc is pressed out of a single metal sheet to form a conical disc with disc spacers. These spacers are uniformly distributed across the disc surface, ensuring that the distances between the discs are even and resulting in a robust and rigid disc stack. The micro caulks are smaller and shorter than welded spacers, providing slightly more separation area and enabling more discs to fit into the disc stack. The actual increase in area depends on the size and type of separator.
UniDisc: an expert view
Find out more about the design of UniDisc. In this video, you will hear from two of Alfa Laval's separation experts, including one who was involved directly in the concept development of the UniDisc technology. They explain the origins of the design, more information on how it works, and the benefits it can offer in various centrifuge applications.
UniDisc: No magic, just innovation
With Alfa Laval's new UniDisc™ technology, you get up to 30% higher separation efficiency and a never-before seen degree of hygiene from your disc stack separator.
Unlike traditional separator discs with caulks that have been welded to the plates, discs with UniDisc™ technology feature micro caulks that are formed during the pressing of the plates. The result is a disc stack with higher separation efficiency and unmatched cleanability.
It's not magic. It's just another groundbreaking separator innovation from Alfa Laval.
Take advantage of Alfa Laval features
All Alfa Laval separators are developed with the benefit of more than 130 years of experience with disc stack separation technology and our deep knowledge of customer processes. Find out how all that expertise has gone into unique features for improved separation performance.