Transfer sterile liquid food products and beverages into airtight packaging under aseptic conditions – safely, efficiently and reliably. The Alfa Laval compact aseptic filler easily adapts your production needs. Tested, preassembled and ready to use, it handles volumes from three to 1,000 litres, no matter the container, fitment, cap or spout. This space-saving filling line is a cost-effective way to bring flowable food products and beverages to market.
A compatibility that no one else can match with our compact bag-in-box fillers
Flexibility no matter the bag size, cap type or packaging design
Increase production safety and output due to the use of the aseptic validation protocol
Global expertise and service network with local service centres
Complete solutions provider of aseptic lines, including sterilizers, aseptic tanks and aseptic bag-in-box fillers
Maximize uptime and productivity with the Alfa Laval compact aseptic filler. Changeovers between bag size and cap type are fast, regardless of operation in semi-automatic or fully automatic mode.
This FDA-compliant filling machine can fill liquids, low-acid food and beverage products, and viscous products containing particulates. The products handled include ready-to-drink juices, milk, milkshakes, sundaes, vegetable and meat extracts, as well as fruit, citrus and tomato concentrates, syrups and extracts.
Unrivalled in its performance, versatility, and cost-effectiveness, this environmentally friendly aseptic filling system for dairy and low-acid processing comes backed by expertise from a global organization with local service and support worldwide.
H

ow does the Alfa Laval compact aseptic filler work?
Before use, the filler is automatically washed and sterilized using a Cleaning-In-Place (CIP) cycle followed by a Sterilization-In-Place (SIP) cycle, both featuring cyclic action of the valves in contact with the product, the circuit valves, and jets of steam. During CIP and SIP, the time counter is automatically set to zero if an alarm is triggered; the time counter does not restart until the condition that triggered the alarm has been reset.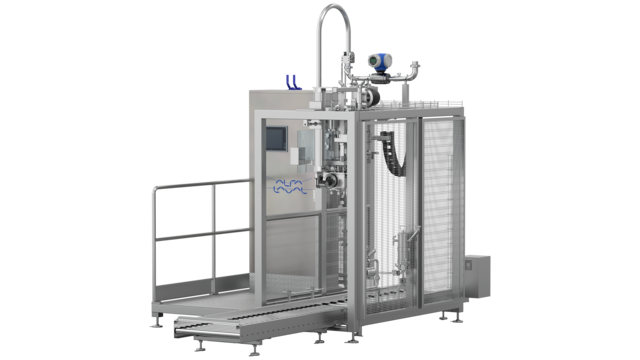 Compact aseptic filler with one filling head

Automatic bag feeder system
Manual insertion of the bag neck into the filling head automatically initiates the opening-filling-and-closing cycle. Monitoring and control of the jet steam and filling valve temperatures occurs during the filling cycle. For low-acid products, disinfectant is added as an aerosol spray.