Shrink your footprint – use less and save more
Supporting your sustainability journey

Striking the right balance among the economy, society and the environment is the critical pathway to more sustainable operations. At Alfa Laval, sustainability breeds innovation. That translates into equipment and systems that reduce emissions and use less energy and less water – throughout food, dairy, beverage, pharma and home-personal care process lines.
Helping you green your operations

As you green your own operations, know that we have your back. You can take advantage of our sustainable optimization to identify areas to improve and verify savings that reduce your total cost of ownership.

"Using the Alfa Laval ThinkTop V70 with Unique Mixproof valves is a prime example, slashing Cleaning-in-Place liquid costs by up to 90%," says Ulrik Dupont, Vice President, Head of Service, Hygienic Fluid Handling, Alfa Laval. "We not only work to reduce your environmental footprint, but also work hard to shrink our own."


Practicing what we preach

Dupont points to Alfa Laval's own sustainability practices: solar panels supplying a third of the energy requirements at a new Alfa Laval manufacturing facility in China; a global service-centre project aimed at reducing water consumption by 30%; and, ongoing efforts to reduce more emissions and recycle and reuse more waste generated by our operations.

Sustainability is good for your business, good for the environment, good for people and good for the planet. Going forward, let's keep sustainability top of mind.

Save up to 90% in CIP liquid costs with the Alfa Laval ThinkTop V70 and Unique Mixproof Valves.
Alfa Laval ThinkTop V70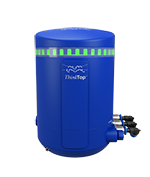 Hygienic valve control unit with burst
seat cleaning function delivers
sustainable savings.
Alfa Laval Unique Mixproof Valve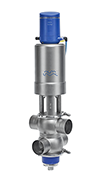 Hygienic no-spill valve supports
sustainable, contamination-free
handling of two liquids.