The SX is Alfa Laval's premium rotary lobe pump designed for gentle transportation of process fluids in hygienic and ultra-clean applications in the biotechnology and pharmaceutical industries, health and beauty, and demanding food applications.
Best choice for transporting
With the SXs multi-lobe rotor geometry it offers low pulsation and gentle pumping. This makes it the best choice for transporting sensitive products that require gentle handling to minimize shearing. This EHEDG-approved pump is designed for both Cleaning in Place and Sterilization in Place.
Protecting end-product quality
Low pulsation, low shear and low noise characteristics, while ensuring efficient fluid transfer, are trademarks for the SX pump. This high level of performance has been achieved through a detailed understanding of flows and the exact geometry of the rotors and rotor case. For this Alfa Laval employs Computational Fluid Dynamics (CFD).
Enhanced cleanability
SX rotary lobe pumps are designed with features that maximize performance and minimize the risk of contamination. These include a low-profile rotor nut, hygienic front-loading mechanical seals, defined compression front cover sealing, fully drainable pump head with 3° fall angle, and sanitary or ultra-clean surface finishes.
Cleanablity hand-in-hand with low maintenance
Designed for maximum cleanability and ease of access, the SX pump is a low maintenance solution. Alfa Laval manufactures all pump parts, including the rotor case and high-precision rotors. This facilitates maintenance and guarantees full interchangeability of spare rotor parts.
For reliable operation and lower maintenance the robust gearbox construction comes with heavy-duty shafts, torque locking assemblies and taper roller bearings throughout. The gearbox's universal design provides the flexibility of mounting the pumps with inlet and outlet ports in vertical or horizontal position.
Supply and delivery
Available in 14 different models, SX rotary lobe pumps are capable of handling of a wide variety of viscosity and temperature requirements, flow rates up to 115 m3/h, pressures up to 15 bar and temperatures up to 150°C. A wide range of seals is available to ensure that the right seal is selected for the specific application.
Certification, specification and standards
All SX rotary lobe pumps comply with EHEDG, 3-A, 3.1 and FDA hygienic standards and have ATEX approval for use in explosive environments. For more information, please consult the documentation provided.
SX Rotary lobe pump - Exploded/p>
Avantages du produit
 Faible pulsation et pompage doux

Minimisez le cisaillement

Optimisez les performances et minimisez le risque de contamination
Catalogue produits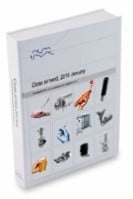 Dernière version en ligne du catalogue "A portée de main"
Construction
Les pompes à lobes rotatifs Alfa Laval sont des pompes de conception conventionnelle à déplacement positif avec carter de rotor, couvercle de carter de rotor, rotors, écrous de rotor, arbres, carters d'engrenages, joints d'arbre, et élastomères. Les pompes fonctionnent sans pièces internes en contact dans la tête de pompe.
La SX peut être fournie en tant que pompe à arbre nu ou montée sur une plaque de base complète avec accouplement, protection, moteur à engrenages et capot pour une installation plug-and-play facile.
Les matériaux de construction standard sont l'acier inoxydable 316L pour toutes les pièces en contact avec le produit et la fonte peinte pour la boîte à engrenages. D'autres matériaux sont disponibles sur demande.
De plus, Alfa Laval fabrique toutes les pièces de la pompe, y compris le carter de rotor et les rotors de haute précision. Cela facilite la maintenance et garantit l'interchangeabilité des pièces de rechange des rotors.
Principe de fonctionnement
Le train d'engrenages dans la boîte à engrenages de la pompe entraîne les rotors et assure la synchronisation ou le calage précis des rotors. Le système de propulsion contra-rotatif comporte deux rotors tournant dans des directions opposées dans la tête de la pompe. Le fluide est transporté à travers la pompe dans les cavités formées entre l'arrêt du rotor et l'intérieur du carter du rotor.