The secret ingredient behind brewing great beer is planning
Salama Brewing Company is a small but fast-growing independent craft brewery in Finland. It specializes in 'extravagant beers' offered to customers scattered across the Nordic countries and Europe. Established in February 2019, the brewery has experienced tremendous growth – every batch has sold out before it has even been brewed. Christian Holmlund, one of brewery's owners, explains how they managed to win brewers' hearts and expand far beyond the boundaries of their home country in just 18 months. Originally published on 16th April 2021.
DATE
2023-11-28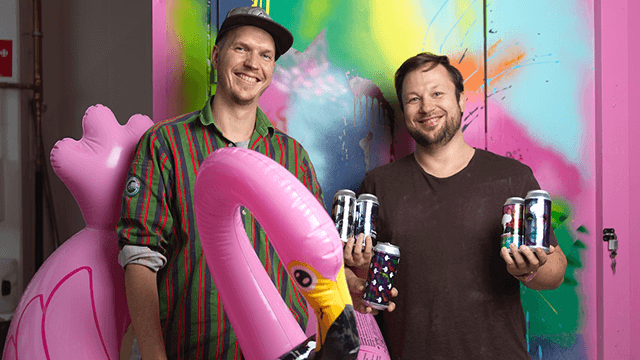 Salama Brewing owners: Jaakko Ailio and Christian Holmlund (left to right)
How many people work in your brewery and what are your roles?
We are six right now. As CEO, I'm also responsible for sales and marketing. Ville Saarikoski, our co-founder and art director, based in London. Jaakko Ailio is the brewmaster. Jaakko and I are the owners and the only ones working full-time. The fourth, Johannes Järvinen, helps us with the legal stuff and regulations. Here in Finland brewing beer requires a lot of paperwork. We also have two part-timers who manage the service and help us brew.
Your brand really stands out. What is the idea behind the Salama brand?
Well, the whole idea was to take over the world (he laughs). We wanted to create a brand that stands out. There are a few good brands here in Finland. But, in general, we are not as good at expanding and promoting our brands internationally compared to Denmark and Sweden. That's why we wanted to do something different and choose fancy colors for our beer cans instead of boring ones. We like a lot of pink and all other bright colors.
There's a lot of beer titles to choose from on your website, how many are they?
Since we started a year and a half ago, we've come up with 55 different beers. We brew a lot of new hazy IPAs and double IPAs as well. One of the reasons we needed a beer centrifuge is to experiment a lot and brew different styles of beers. We have a couple of different beers as a base and we do a lot of experiments with these.
Where did you get inspiration and ideas for them?
You need to ask our brewer Jaakko. The main idea behind so many different beers was that we wanted to have fun. It would be boring to do the same beer over and over. And if you want to stay at the top of the field – you need to innovate all the time.
How much beer do you produce annually and where do you sell it?
The first year we produced 27,000 litres. This year we're producing 70,000 to 80,000 litres. Currently, we distribute beer mostly in Finland, and a little bit in Sweden, the Netherlands, the Czech Republic, the U.K. and Germany. We sell basically everything even before we even brew the beer, so we are quite happy about that. We don't have any storage. Everything that comes off of our canning line sells out straight away.
That's impressive! Pretty much a dream for any newly started brewery. How did you manage to achieve this?
The proper branding always helps – when you can grab customer attention from the start. Besides, I own another company that provides consulting services to help small and medium-sized businesses expand abroad, and I have a lot of contacts in various areas. Before the global pandemic, I traveled quite a bit to look for business partners. Even before we started our brewery, we went around and visited bars and beer shops with our samples and made contacts in advance. When we started, we were already doing 1,000-litre batches and we had everything ready to scale up.
How did the coronavirus crisis affect your business?
We used to sell around 60% of our beer to the bars before the pandemic, so we lost that business when bars closed. But we increased sales of canned beer through web shops. So, in response to the coronavirus, we switched from kegs to cans. Now sales are still good despite the loss of the sales to bars.
Who is your target audience?
On the one hand, we have the beer geeks – beer lovers who want to try something new and special all the time. That's one of our two main audiences. To keep these customers, you need a variety of tastes and you need to renew your assortment often. The other main audience is customers who want to buy something other than just 'normal' beers. Sour beers and beers based on different types of fruits like mango, passion fruit and berries. We make a lot of those beers too, when you usually have to pour 120 grams of fruit per litre. To me, personally, it does not taste like beer, it's more a fruit juice! But it's a big segment for us and we like to experiment, so we produce a wide range of fruit and sour beers.
Did you experience any challenges with beer quality when you started?
Actually, I have to say, not that much. Again, what really helped us was a lot of advance preparation and planning. Don't underestimate the fact that our brewer is a professor in international politics! When we started, we basically did two-step batches with each new piece of equipment we added to secure quality. We are quite picky ourselves, so we don't sell beer that we don't like.
With the Brew 20 centrifuge we now get around 750 litres out of the same tank. So, it's 50-100 litres more, which is a lot of money with a cost of 6 euros per litre.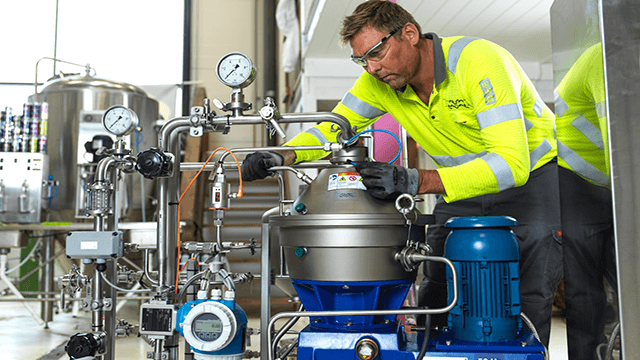 When did you realize that you might need a centrifuge in your process?
From the very beginning. We did a lot of research on equipment and it took us five to six months until we knew what we needed to invest in. We were looking at other types of equipment like a hop gun in addition to a centrifuge. But with a hop gun we had questions about how this would affect the taste of the beer. Then we decided that the centrifuge was more important. Since we are still quite a small brewery considering our production volume, we chose the Brew 20 – the smallest centrifuge for breweries in the Alfa Laval range. We had the money, so that was not a problem. We spoke to other breweries a lot about their experiences as well.
What did you want to achieve with the help of the centrifuge?
Our number one goal was to achieve faster turnover for our fermentation tanks. We produce hoppy beers and double hop IPAs. Before we got the centrifuge, we had to wait for two to three weeks for the hops and yeast to sediment. Going from a three-week wait to two hours with the centrifuge – that was a lot! And the fact that you can get a bit more beer with the centrifuge from every tank was the deciding factor for us. I think that we were able to get about 10% more beer from every batch with the help of the centrifuge.
How much beer were you getting before you got the Brew 20 centrifuge?
Before we got this machine, we used to get under 650-700 litres out of a 1,000-litre tank. We usually lost around 300 liters of every batch since we dry hop very heavily – approximately 30 grams per litre. With the centrifuge, we now get around 750 litres out of the same tank. So, it's 50-100 litres more, which is a lot of money with a cost of 6 euros per litre. It was quite obvious that profitability went up for us after adding the centrifuge.
When it comes to improving aromas and flavours, has the centrifuge helped you in any way?
Definitely, we get less hop particles in our beers and we no longer have to wait hours for the sediment to form from the hops. With the centrifuge, there's basically no hop particles left at all, which helps cut the harshness in the beer.
Any sustainability benefits you see with using the centrifuge?
I think we get a more stable beer in terms of quality and taste since we have a pretty good control of what goes into the cans and kegs. And we don't have problems like fermentation happening in the cans, which is also important.
How often do you use the centrifuge?
Well, I think three times per week – but sometimes three times a day. It depends.
What is the average flow rate that you are running through the machine?
Flow rate varies a lot since we use the Brew 20 for all types of beer. Our pale ales go through that centrifuge at a different speed than our double IPAs.
When it comes to servicing this machine, how has it been so far?
We have done the basic service ourselves, so we haven't used Alfa Laval's service yet. We actually lent out our centrifuge to another brewery nearby. They had a 12,000-litre tank and they had to run it throughout the whole weekend since the Brew 20 was a bit too small for them. But they were happy with the results, so they ended up buying a larger centrifuge from Alfa Laval straight after that. They promised to handle the service for us in exchange for helping them out. So now we are just waiting for the right moment to send them the bill for the service (he laughs).
Are you doing any types of bright beers, like pilsners, or do you only brew hazy pale ales?
We do a lot of double IPAs and stouts too, and now that we recently had 14 new tanks installed, we are able to do pilsners as well.
What have you done better than the other breweries and what are your major criteria for success?
I think investing in time to plan properly is key. That helped us a lot. Before we started producing beer, we spent three to four years setting up a detailed plan of everything we needed to do and to buy. I don't mean we are that slow – we make a lot of decisions quickly every day. But it seemed crucial to get the basics right: finance, sales, marketing, production process and so on.
At a glance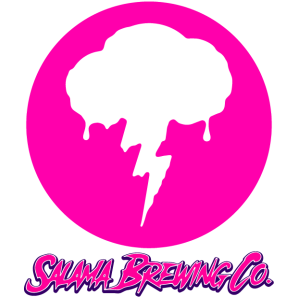 Location: Espoo, Finland
Produces around 70 000 - 80 000 liters per year
Types of beer: hoppy beers, double hop IPAs, fruity beers
Increased yields by 10 % with the Brew 20 centrifuge
Market presence: Finland, Sweden, Netherlands, U.K. , Germany, Czech Republic
Brew 20
Centrifugeuse polyvalente pour les brasseries artisanales et les micro-brasseries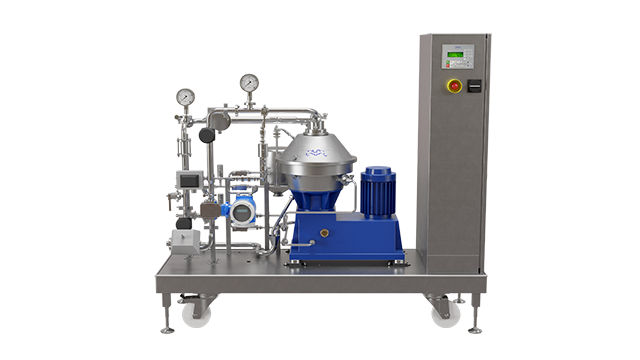 Jusqu'à 15 hl/h
Faible collecte d'oxygène, sortie hermétique axiale
Basique et facile à utiliser
Skid « Plug & Play »
Faibles coûts de maintenance
En savoir plus sur la centrifugeuse Brew 20

Other beer centrifuges you might be interested in
Brew 80
Centrifugeuse polyvalente pour les brasseries artisanales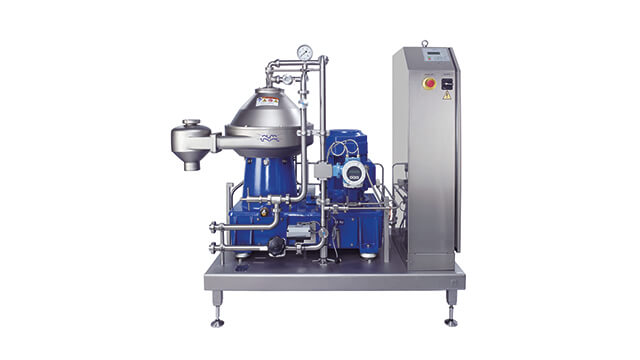 Jusqu'à 50 hl/h
Faible collecte d'oxygène, sortie hermétique axiale
Basique et facile à utiliser
Skid « Plug & Play »
Brew 250
Polisseurs pour petites brasseries et brasseries artisanales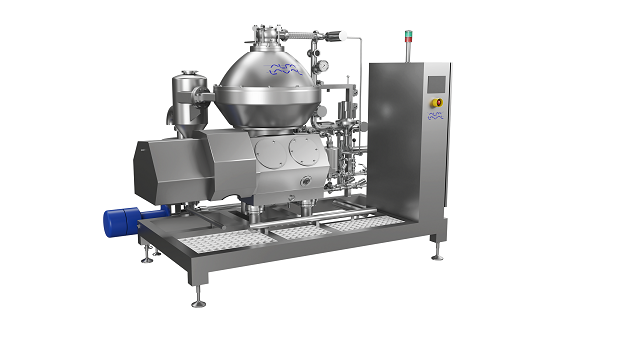 Jusqu'à 180 hl/h
Risque de prise d'oxygène pratiquement nul grâce à la conception hermétique
Faible consommation d'énergie
Basique et facile à utiliser
Séparateur et système montés sur skid
Déclenchement de l'évacuation des solides en fonction de la turbidité
Contrôle de capacité par turbidité d'admission (inclus dans la version Plus)
Automation Siemens ou Allen Bradley (inclus dans la version Plus)
En savoir plus sur Brew 250 Plus
Brew 301
Centrifugeuse polyvalente pour petites brasseries et brasseries artisanales
Jusqu'à 200 hl/h

Faible collecte d'oxygène, joint OxyStop
Basique et facile à utiliser
Skid « Plug & Play »
Déclenchement de la turbidité de l'évacuation des solides
Automatisation Siemens
See our full portfolio of beer centrifuges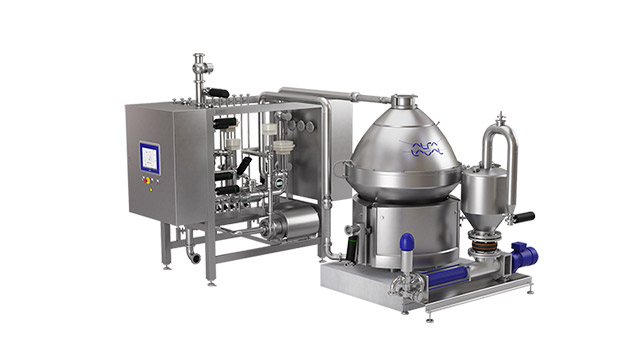 We are proud to offer industry's broadest portfolio of beer centrifuges. Regardless if your brewery is large or small, we have a centrifuge in our broad product portfolio that fits your needs: from Brew 20 for small craft breweries to larger machines for industrial breweries like Brew 750. All the functionalities you need to produce different kinds of beers with consistent high quality and with the lowest energy consumption on the market.